Business removals
There may come a time when you need a professional removal company to relocate your business, either internally or to an entirely new location. Or your employees may need to move abroad for work. With AA Movers, you have come to the right address.
Free and non-binding quote
Free and non-binding quote
Moving without worries
Worldwide experience
Professional, service-orientated and customer-friendly
If you are responsible for the removal process, you must be able to have implicit faith in a professional removal company with an eye for detail. A service-oriented removal company knows which services matter to you: a flexible planning of your removal, a handyman or a cleaning service. AA Movers is customer-friendly. We realise we are working for people, not dealing with queueing numbers. Moreover, we offer you a good price/quality ratio.
Unique and attractively priced
AA Movers has a professional, service-oriented and customer-friendly approach. Thanks to our efficient internal organisation, modern removal process and qualified and motivated employees AA Movers is able to maintain attractive prices.
Fast and safe removal process
AA Movers uses professional and modern removal materials only, which increases speed, safety and quality of the removal process. There will be no unnecessary noise of squeaking wheels or of bookcases being pushed through the offices. Fragile items such as monitors are given extra care and corners of walls are extra protected with sheets and foams.
Preparation and after-sales services
We will do everything we can to ensure a pleasant removal. Well begun is half done, and accurate agreements prevent unnecessary worry and misunderstandings. As professional movers we take a constructive approach. Moving is a profession, after all. After-sales service is an important aspect as well. We make sure your desk is at the right height, that pictures are hung and that our movers or handymen help you reassemble the furniture or tighten the screws.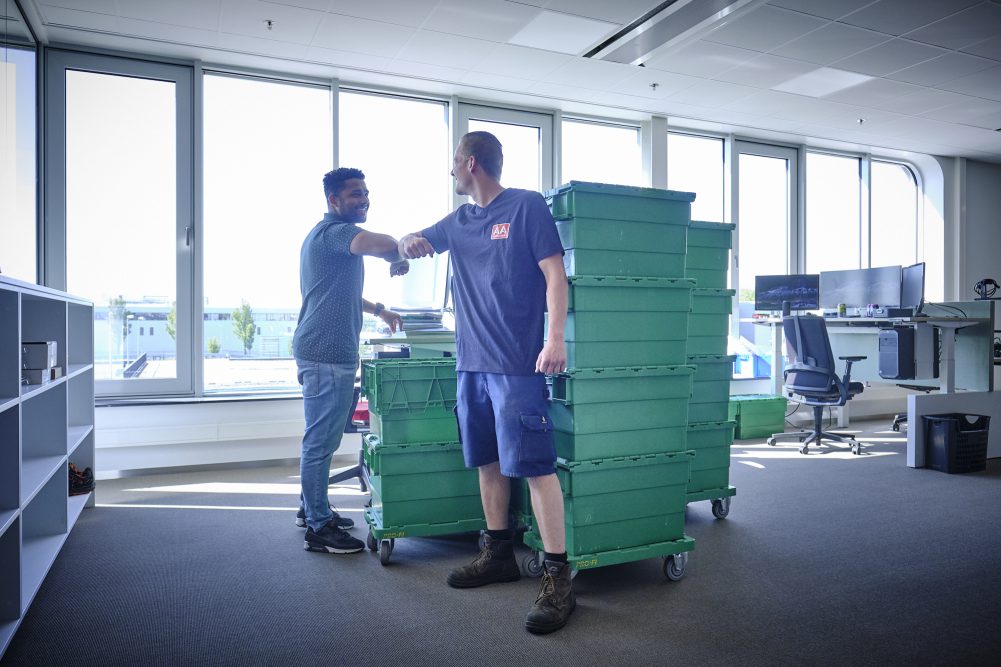 Want to move without worries?
AA Movers is a recognized moving company with more than 25 years of experience worldwide. In addition to national removals, we specialize in international removals for both private individuals and companies.